piątek, 8 czerwca 2012
Dozbrajania orkowych zastępów ciąg dalszy. Z pudła ze starociami wygrzebałem pradawne rhino. Model z długą historią. Wielokrotnie przechodził z rąk do rąk, pierwotnym właścicielem był Gibbon, który w okolicach 1993 kupił go z pierwszej dostawy WH40k od Grześka Szulca. Model parokrotnie zmieniał umaszczenie. Zaczynał służbę jako pojazd Dark Angeli by po dzikim deal`u zostać Orkowym bojowozem. Po paru latach służby wrócił do zakonników by po chwili, ostatecznie przemalowany i upiększony ponownie zostać pojazdem zielonoskórych. Przeleżał się w piwnicy Ignaca ponad 10 lat by w końcu trafić do mnie.
Wykonany jest z najstarszego kremowego plastiku i dziś już lekko się kruszy.
Pierwszy zamysł jaki miałem to zostawienie go jako looted rhino ale uznałem to, za mało orkowe. Zieloni lubią duże dakka-dakka dodałem przerysowane wielkie działo. Armata to produkt MaxMini.eu, dźwig zrobiłem z resztek bitsów Kromlecha i kawałka plecaka odrzutowego MaxMini. Chwytak to spinka do włosów i linka z czołgowego zestawu Tamiyi, pocisk nie wiem skąd. Reszta drobiazgów raczej rozpoznawalna. Zawsze lubiłem "otwierać" Rhino, w tym przypadku konieczne było dodanie platformy, inaczej obsługa nie mogłaby sięgać do zamka działa. Załogą poza pradawnym kierowcą oryginalnie pomalowanym przez Ignaca, będą dwa groty. Rigger z kluczem majstrujący przy dźwigu i celowniczy z lunetą stojący na skrzynkach, już wybrani i po podkładzie. Ładowniczym będzie ork, którego pozostaje mi lekko skonwertować. Co do samego modelu nie przewiduję już większych zmian, jedynie jakaś kosmetyka, trochę nitów, łatanie szpar. Malowanie planuję podobnie jak lungburstę na czerwono i w płomienie...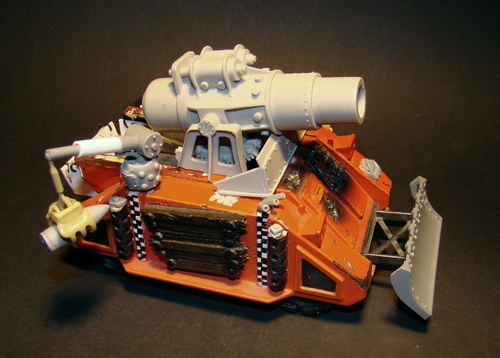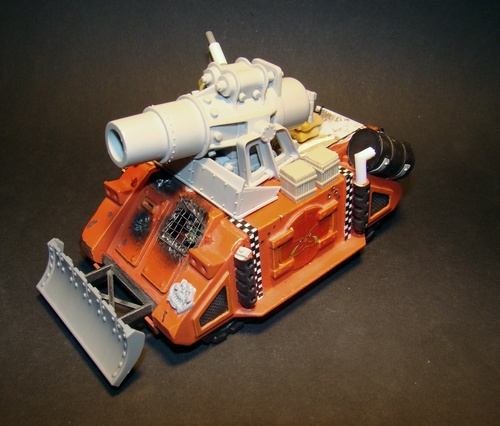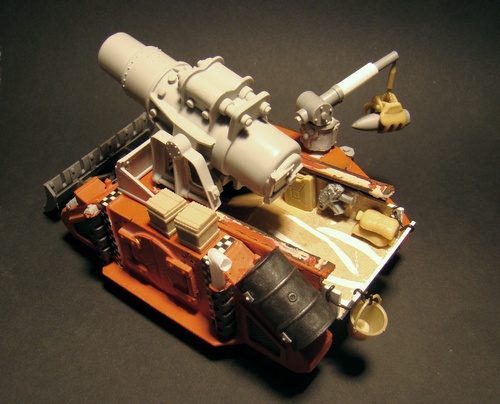 0 Comments: