piątek, 25 stycznia 2013
Chwila wieczorem zaowocowała kolejnym nurglowym space marinem konwertowanym ze zwykłego snap-fita. Główka i plecak to bitsy z MaxMini.eu, robak robiący za mackę moja produkcja, nurgling to ludek z plastikowego zestawu Games Workshop. Całość robót około godziny.


---
Championi powstawali na różne okazje. Pierwszy był koleś na desce, podczas ostatniej Apocalypsy robił za Herolda Nurgle na palankinie. Kupa jest z gipsu rozrobionego z rzadkim wikolem. Dla efektu wyciskana przez torebkę, więcej fotek jak typa pomaluję. Dwa kolejne to twory powstałe do FUBAR`a, czysta radocha tworzenia, mogą nie mieć zaczepienia w WH40k ale co tam, wyszły fajnie. Części to 100% bitsów z MaxMini.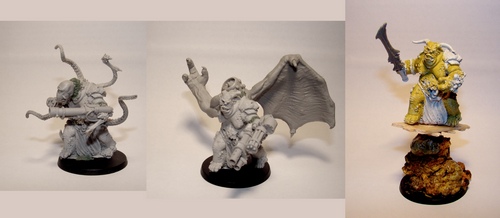 4 Comments:
25 stycznia 2013 01:44

 

Marine bardzo fajny, teraz tylko maluj. A z czempionow ten z glowa fimira mi sie najbardziej podoba, niezly technospawn.

25 stycznia 2013 02:07

 

Pomaluje jak zrobię ich z pięciu.

25 stycznia 2013 10:58

 

Koffam tego nurglinga! ^^

25 stycznia 2013 11:23

 

W pudełku jest jeszcze kilku takich luzem. Niestety wiekszość tworzy stosy, i ciężko będzie ich pozyskiwać bez strat ;-(