sobota, 20 sierpnia 2011
Dzień dzisiejszy nadszedł nadspodziewanie szybko. Nie to żebym się jakoś wewnętrznie na niego nie przygotował, naturalnie przystroiłem kapliczkę Cthulhu w mojej Wewnętrznej Świątyni, lecz to jakoś wydaje mi się jest za mało...
Dziś są urodziny Lovecrafta! Czynię zatem fetę na jego cześć! Howard Philips, jak wiemy, niezłym hulaką i ochlapusem był, dlatego też będzie impra w jego stylu... kobiety, alkohol, wino i śpiewy do samego rana... eee, to raczej odpada... noo, może około północy skuszę się na jakieś zaśpiewy ku chwale Cthulhu o ile mnie wcześniej nie dopadnie Hypnos...

Doszedłem do wniosku, że w taki dzień, co jak co ale trzeba coś pomalować i musi to być coś z korzeniami w twórczości pana L. Do diabła z robotą i sprzątaniem, zmywanie, pranie, odkurzanie pozostawmy automatom, gosposiom, kopciuszkom i żużelkom...
Dziś maluję! Z nieprzebranej kolekcji ludków wygrzebałem te najbardziej adekwatne. Pierwszy w ręce wpadł mi Formless Spawn of Tsathoggua i niestety wrócił natychmiast do pudła. Uwielbiam Clarka Astona, ale to nie jest jego impreza więc won, będzie inna okazja... W kolejce ustawili się, Elder Thing, Byakhee, Mi-Go i Shub-Niggurath i Nyarlathotep, który był moim faworytem w tej selekcji ale gdzieś zwiał, znajdę gościa później...
Którego wybrać, ciężka decyzja... Jakieś kryteria?

Macki
Farfocle z ryja
Skrzydła
Znajomości
Macki i farfocle z ryja, hmm, to dyskwalifikuje byakhee, chociaż drań ma skrzydła... Elder Things, macki ma, skrzydła są, farfocle na ryju? nie ma wogóle ryja i słabe koneksje, a do tego podpadli mi za shoggoty, sioo... Miiii-Gooooo, kurde, ci są nieźli, nawet wiersze o nich pisano, hmm, sprawdźmy kryteria... macki, niii, farfocle... jakieś są, skrzydła, są, znajomości... łiii tam, kto by chciał malować latające grzyby skądś tam... Tak więc, na arenie pozostaje Shub-Niggurath z młodymi, macki się kłębią, farfocle falują, skrzydeł nam nie trza, lepszych znajomości to i sam Cthulhu nie ma...
Bierzemy się do roboty...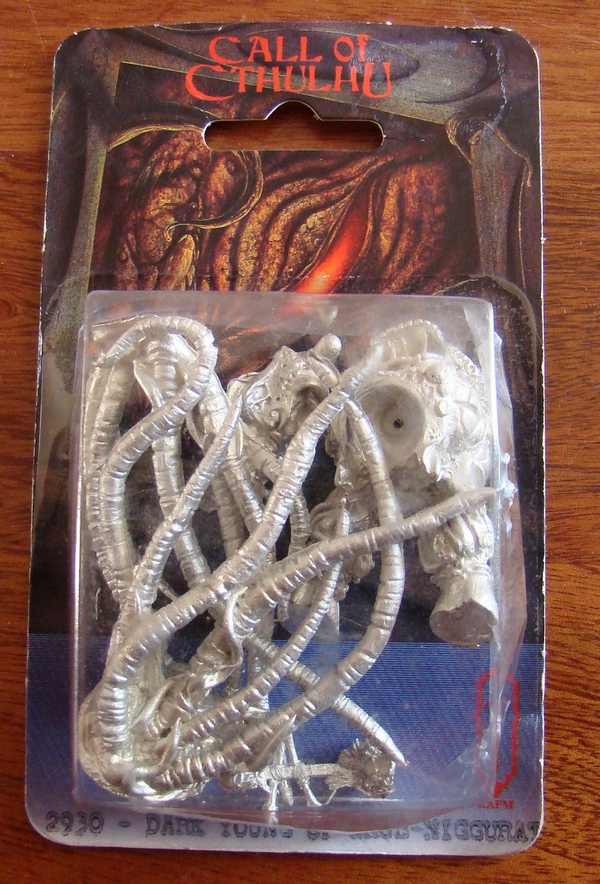 4 Comments:
20 sierpnia 2011 18:21

 

Dawaj, dawaj, tylko nie zapomnij pokazać potem:)

20 sierpnia 2011 19:46

 

Wybrałem chyba najgorszego potwora, masa miniaturowych nadlewek, linie podziału formy, siedzę i czyszczę...

23 sierpnia 2011 11:04

 

To chyba stare zakupy ? Tez sobie takiego kupie, niestety z USA wychodzi najtaniej :/

A możesz pokazać resztę figurek obik barbarzyńców ?

23 sierpnia 2011 11:09

 

Łoj, nieee... mam te ludki od prawie 10 lat... ;-) Innych barbarzyńców wokół Shub-Niggurath?