sobota, 20 sierpnia 2011
Nakręciłem się na remake Conana, więc nie oparłem się pokusie zakupu nowego produktu Marka C. Przesyłka od Copplestone Castings z zestawem mini barbarzyńców, dotarła do mnie już jakiś czas temu ale nie miałem okazji się jeszcze nimi pochwalić...
Jak na te skale rzeźba jest rewelacyjna, ludki mają jakieś ozdóbki, duperelki, detale na broni. Rzeźbiarz popracował. Modele realnie maja 17mm, w końcu to wypasieni barbarzyńcy. W skład 10 figurkowego zestawu wchodzą dość archetypiczne typy. Dwie heroiny w pozach iście królewskich i garść obnażonych Conanów z różnym bojowym ekwipunkiem. Całość wraz z przesyłką kosztowała mnie 43 pln. Hmm, to cena jednego blistera do Warhammera... Nadal czekam na drugą paczkę, ma zawierać trolle i wilki wybrane z oferty 10mm ludków. Myślę ,że świetnie będą się uzupełniać i skalowo pasować. Teraz jeszcze pozostaje kwestia skombinowania jakichś prostych zasad...

Dotarła do mnie ciekawa plotka, jedna z polskich firm szykuje 15mm beastmanów...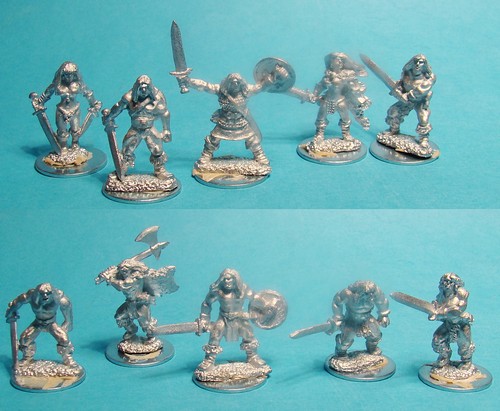 2 Comments:
Inkub said...

20 sierpnia 2011 14:03

 

Tak, ci barbarzyńcy z Copplestone Castings sa rewelacyjni. I zastosowan do nich mozna wymyslic mnostwo, od rpg, poprzez cos prostego w rodzaju starych gier "Arena", do bitewniakow. Fajna rzezba i bardzo przyzwoita cena.

Gonzo said...

20 sierpnia 2011 22:11

 

Bardzo fajne, owszem...