środa, 20 lipca 2011
Póki faza mnie nie opuszcza maluję dalej. Na pierwszy ogien poszedł typ z shotgunem, swoją drogą długo się zastanawiałem co to za jednostka i nadal mam wątpliwości czy to na pewno SWAT ale co tam...
Podobnie jak przy zakładniku położyłem biały podkład z pędzla. Następnie poszedł na ubranie ciemny brąz vallejo. Niestety nie wiem jaki, to stara farba, tak stara, że z czasem starł się kod i nazwa koloru. Wszelkie plecaczki, ładownice, kabura pistoletu i torby to czarny vallejo, nakładany trzy razy cienkimi warstwami, zależało mi na uzyskaniu matowego efektu. Podobnie broń, tyle że krawędzie starałem się rozjaśnić Boltgun metalem, tym samym kolorem zaznaczyłem wystający z kabury pistolet. Korciło mnie by kolbę zrobić w drewnie ale darowałem sobie bo i tak nic nie było widać. Buty i hełm to czarny citadel, jest ciut mniej matowy. Chwile powalczyłem z goglami, enchanted blue, a na to kilka warstw rzadkiego czarnego vallejo. Starałem się uzyskać efekt przejścia, wyszło tak sobie, dla poprawienia humoru położyłem warstwę błyszczącego akrylowego lakieru do paznokci. Na koniec uparłem się na by wydziergać FBI na plecaku i POLICE na froncie. Ciężka sprawa, gryzmołek na klacie kwalifikuje się do zamalowania a te trzy literki na plecaku robiłem dłużej niż całego ludka, może przy następnych modelach nabiorę większej wprawy. Faza mnie nie opuszcza. Na razie nie myślę o zasadach i graniu, bawię się tematem... Link do fotki, która zainspirowała mnie do brązowego malowania munduru.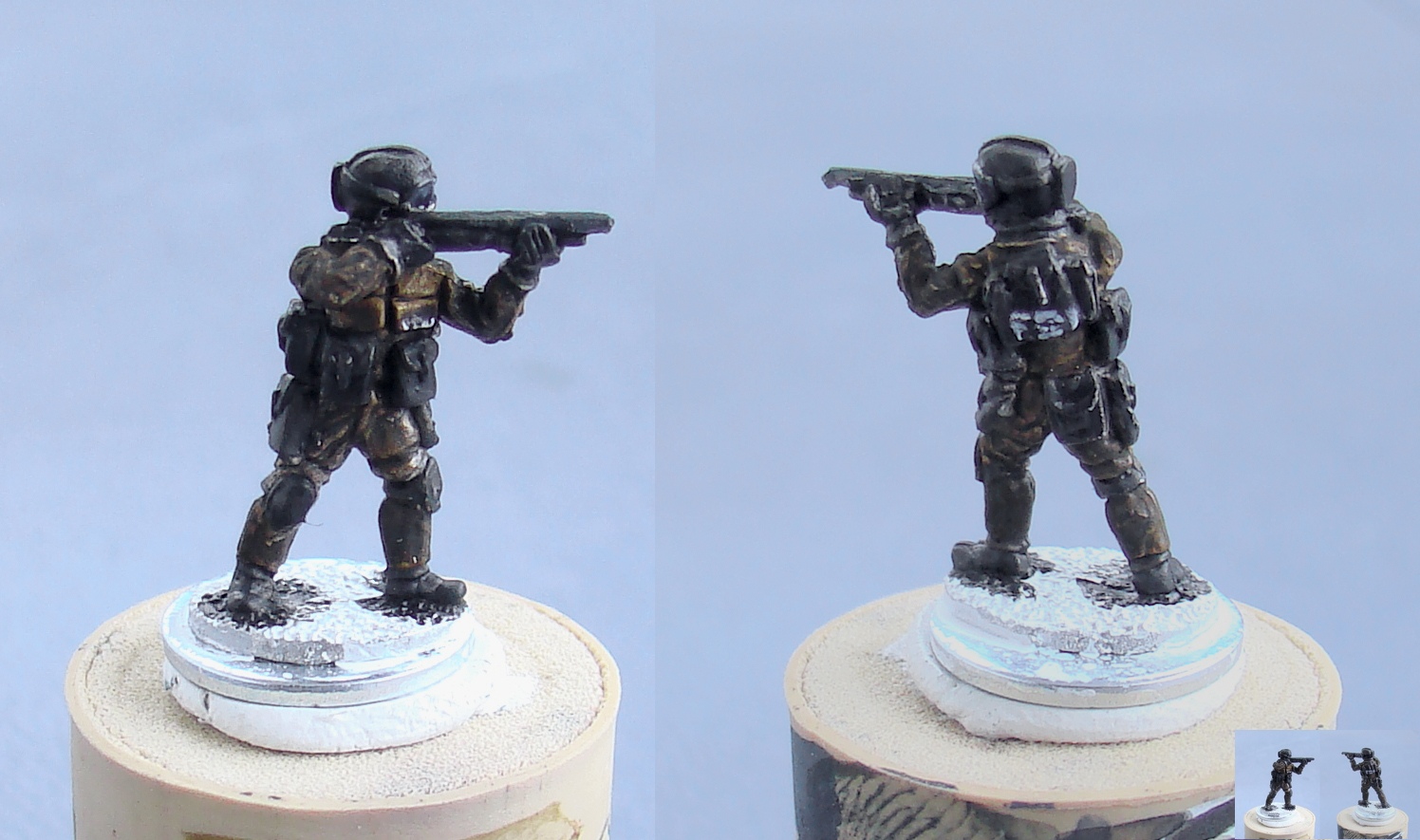 4 Comments:
20 lipca 2011 20:49

 

Fajny tylko troszkę zdjęcie niedoświetlone. Olbrzymią zaletą 15 jest szybkość ich malowania, zwłaszcza w przypadku figurek pieszych:)
A co do farbek czarnych. Mam dokladnie odwrotnie. Moja czarna GW jest idealnie matowa, czarna Vallejo 72051 jest - jakbym nie mieszał - niemal błyszcząca.

20 lipca 2011 21:13

 

On taki ciemnawy jest. Fotki robię co rano na balkonie. Moze jutro bedzie lepsze swiatlo...

22 lipca 2011 09:37

 

22 lipca 2011 15:35

 

Wogóle nie bede chyba metalicznych uzywal i juz. ;-)